Hey Everyone! Happy Monday! Check out our latest review from "Crazy, Beauty Makeup" You can check out the original review by clicking this link

HERE!


A review of Prtty Peaushun
I just want to be honest first and foremost always and say I did receive this product to review. I would also like to say that I get offered products that I don't accept,or you never read about. I won't waste your time talking about anything that I personally would not suggest or use myself. As a makeup artist , I am always suggesting things to clients. This will work amazing for my clients from brides to models.Now that is out of the way let me just say how much I truly love this product.
This product
is available in Plain,Light.Medium,Dark, and Deep shades. You get 8oz for $36.00 and believe me when I say a little bit goes a long way. The amazing container allows you to get the right amount without wasting any product.As you can see when you get to the bottom of the container it will be easy to roll it up and squeeze out every last bit of product.
W

hat they say:
PRTTY PEAUSHUN
pronounced Pretty Potion is a Skin Tight Body Lotion created by celebrity makeup artist BETHANY KARLYN. Subtle light reflecting particles in a natural emollient base give the skin a gorgeous, flattering glow. Radiance conceals minor imperfections like cellulite and stretch marks and helps to enhance definition.
Kimberly Caldwell from VH1's Rock and Roll Fantasy Camp wears it while filming!
photo taken from prttypeaushun Facebook fanpage
My review:
This product has been amazing for me especially now that the weather is so nice. I received this product in the light shade, and it worked perfectly. I use it on my entire body,but I love it the most on my legs.It gives me an even skin tone hiding all the little scars and any imperfections that they may have. It makes me think of celebrities when you see them on the red carpet or on talk shows in dresses and their legs look so glistening and perfect. This can also be used on the face to give a glow or highlight.

This product is made of 92% raw ingredients and is of course Cruelty Free which is very important. Celebrities are a huge fan of her product as well, to name a few Anne Hathaway, Tracy Anderson(from the famous Tracy Anderson Method),Cate Blanchett, Rihanna and Pamela Anderson.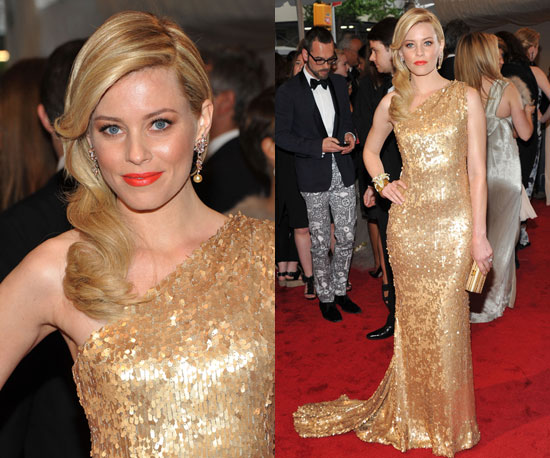 Elizabeth Banks at 2011 Met Gala wearing Prtty Peaushun in Light
photo taken from bellasugar.com
I
really love
this product and I couldn't wait to post this review. I know all my beauty lovers out there would find this product useful as well. Let me know what you think! Now we know the secret to that glowing skin all the celebrities have on the red carpet ehhe

For more information please go to
http://www.prttypeaushun.com/
As seen in Who Magazine-Australia